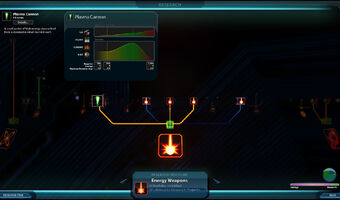 Sword of the Stars 2 has a similar technology tree to that of its predecessor. The main diffrence is that it starts in the fusion era and goes beyond the antimatter era. science stations will have become nessercary unlike the previous game.
Studying technology feasibility
Edit
Some technologies are available for research immediately. Other technologies require you to study their feasibility. It takes some time to do that and gives you a report. The report shows the probability to actually develop this technology through research.
Here is a link to the Java tech tree app made by Arkalius.
Ballistic Weapons
Edit
Bio Technology
Edit
Rider Technology
Edit
C3 Technology
Edit
Drive Technology
Edit
Engineering
Edit
Energy Weapons
Edit
Industrial Technology
Edit
Energy Technology
Edit
Political Science
Edit
Shield Technology
Edit
Warhead Technology
Edit
Xeno Technology
Edit
| Name | Allows | Allowed by | RP (k) | Hiver | Human | Liir-Zuul | Morrigi | Tarka | Zuul | Required For | Requires |
| --- | --- | --- | --- | --- | --- | --- | --- | --- | --- | --- | --- |
Ad blocker interference detected!
Wikia is a free-to-use site that makes money from advertising. We have a modified experience for viewers using ad blockers

Wikia is not accessible if you've made further modifications. Remove the custom ad blocker rule(s) and the page will load as expected.