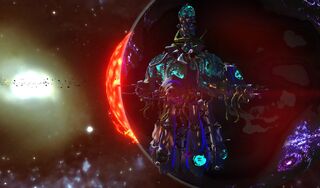 Courtsey of aaaaaargh in the What does this do? Information gathering post! on the Paradox forums.
Station modules descriptions
Edit
station modules description from the game files (UI_STATIONDETAILS...) too long to post it in full, so I'll try to sum it up Some descriptions contain mistakes (such as the sensor descriptions for science stations mentioning "naval stations" instead), and these are just description texts which might be outdated.
tactical sensor range (TSR) +500m,
strategic sensor range (SSR) +0.5LY,
detecting cloaked ships +5%
DiplomaticEdit
TSR +200, SSR +0.2, +1 point/turn to intel total
TSR +250, SSR +0.25, +10% to detect incoming menace 1 turn early
TSR +500, SSR +0.25, +10% to intercepting pirates in system
TSR +500, SSR +0.5, +10% casting/farcasting accuracy
Warehouse
Edit
Naval: +2 CE/module to base support capacity
Civilian: "warehouses let trade goods survive 1 extra turn waiting for pickup"
Naval: +10% repair ability in system
Naval: +1 CE/module to "system's defense asset"
Naval: +2%/module ship build efficiency
Diplomatic, Gate, Science: -2%/module station support costs (all have the same description as the diplo station)
Civilian: "docking for a freighter fleet and +1 potential trade movement"
Naval: "2 large turrets that can be armed appropriately"
Diplomatic: +1%/module trade route value for routes to/from system
Terraform
Edit
Cilivian: +25%/module terraforming efficiency in system
Gate: +2 CE/module to gate carry capacity
+2% bonus to research in given discipline
Habitation
Edit
Diplomatic: 1 GDP/turn
Science: +1% bonus to all research
Civilian: +1% value to internal trade routes
Gate: +10% system positive morale effects
Large habitation
Edit
Diplomatic: 3 GDP/module/turn
Civilian: +5% value to internal trade routes
Alien habitation
Edit
Diplomatic: 1 RDP/module/turn for specific race
Civilian: +2% value to inter-empire trade routes (I guess for a specific race?)
Science: +2% to all research, +5% bonus to "any special project offered by that race"
Large alien habitation
Edit
Diplomatic: 3 RDP/module/turn for specific race
Civilian: +5% value to inter-empire trade routes (I guess for a specific race?)