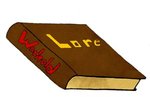 All lore has so far been taken from rosarches wiki which has in turn been taken from somewhere else. It would However be probably worth noting that most of the lore is from the SolForce perspective. In other words if SolForce knows it you Know it.
At the Monastery of Ke Sothram
Hiver Entertainmant & Pastimes
Ad blocker interference detected!
Wikia is a free-to-use site that makes money from advertising. We have a modified experience for viewers using ad blockers

Wikia is not accessible if you've made further modifications. Remove the custom ad blocker rule(s) and the page will load as expected.