Welcome to the Sword of the Stars 2 Wiki
Edit
Join us in making this a great community resource!
A few disclaimers!
Edit
I will be copy/pasting liberally from forums and the manual. so if anything is wrong dont hesitate to speak up. We are game nerds not omnipotent and infalliable beings.
Credit will be given where credit is due.
Please feel free to contribute anything and all info, technical, lore or otherwise.
I also know there is at least one more wiki, located here. It seems to be down atm, though, so I thought it would be good to have a community page up and running.
Latest activity
Edit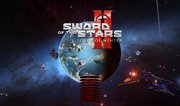 Ad blocker interference detected!
Wikia is a free-to-use site that makes money from advertising. We have a modified experience for viewers using ad blockers

Wikia is not accessible if you've made further modifications. Remove the custom ad blocker rule(s) and the page will load as expected.